Ceramic coating, nano-ceramic coating or simply "ceramic" as known by car detailers in Newport News, is a liquid polymer applied to the exterior surfaces of a vehicle. It chemically bonds with the factory paint, creating a protective layer that offers several benefits for the car's paintwork. When cured, this technology will transform itself on the surface to a permanent, durable yet flexible glass shield. Ceramic Pro is an advanced version of ceramic coating that can be described as an additional clear coat, with 3 times the hardness and self-cleaning properties.
Is Ceramic Coating worth it?
Benefits of Ceramic Coating
Years of durability – This auto detail protection is unmatched by any wax or sealant on the market. Some wax's can last between 3 to 6 months and paint sealant can last between 6 months to 1 year depending on the area you live and how well you maintain the paint on your vehicle. However with ceramic coating you will never have to wax your vehicle for years to come. Your paint will not fade or age due to the uv protection in the coating.
Your vehicle will maintain the highest level of resale value. The coating virtually pays for itself in the end!
One Layer of Sport on paint

One Layer n the Windshield

Six Month Warranty
1 Layer of Ceramic Pro Light

1 Layer of Ceramic Pro Light on Rims and Plastic

One Layer of Ceramic Pro Rain on Front Side Windows and Windshield

2 Year Warranty
1 Layer of 9H on paintwork & trim

1 Layer of Light on paintwork

1 Layer on the face of wheels-

1 Layer of Rain on the windshield

1 Layer on driver windshield

Five years product warranty
4 Layers of 9H

1 Layer of Top Coat

1 Layer of 9H on plastics

1 Layer of Wheel & Caliper on wheel faces

1 Layer of Glass on windshield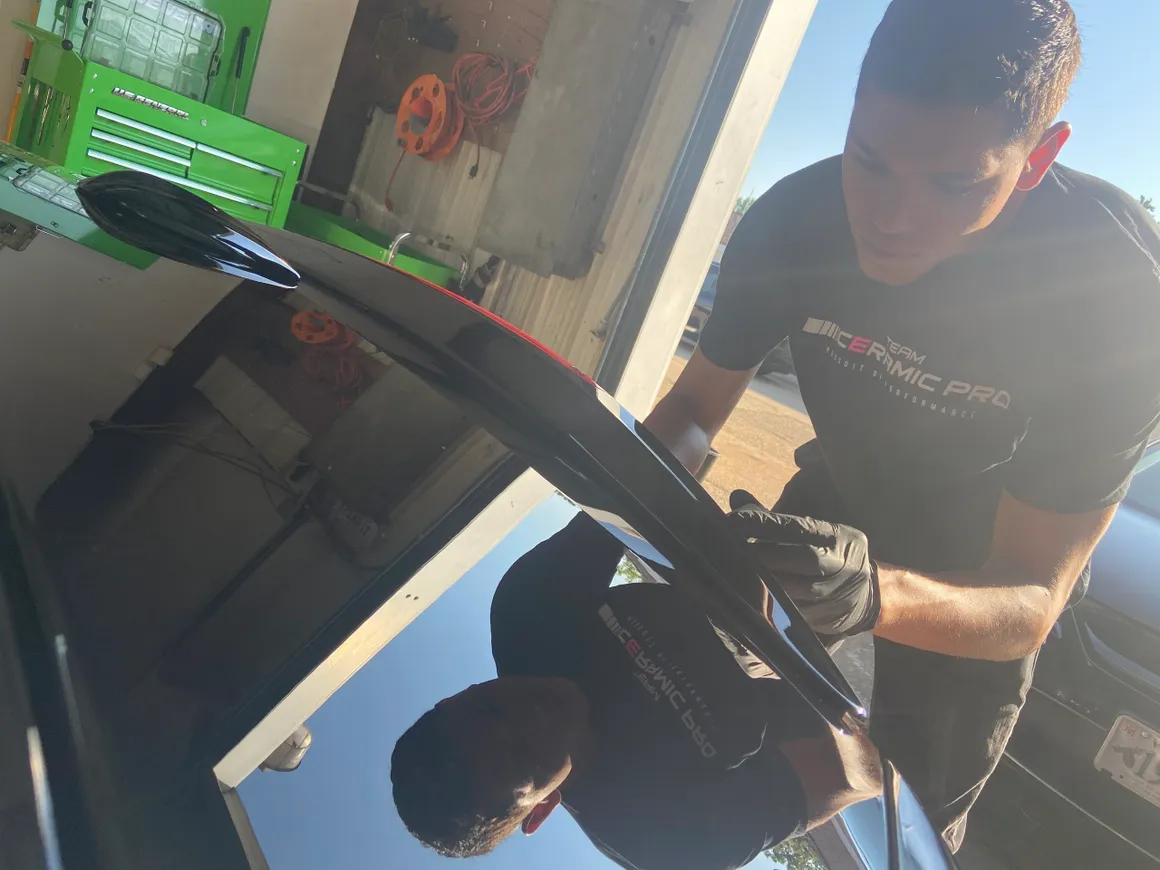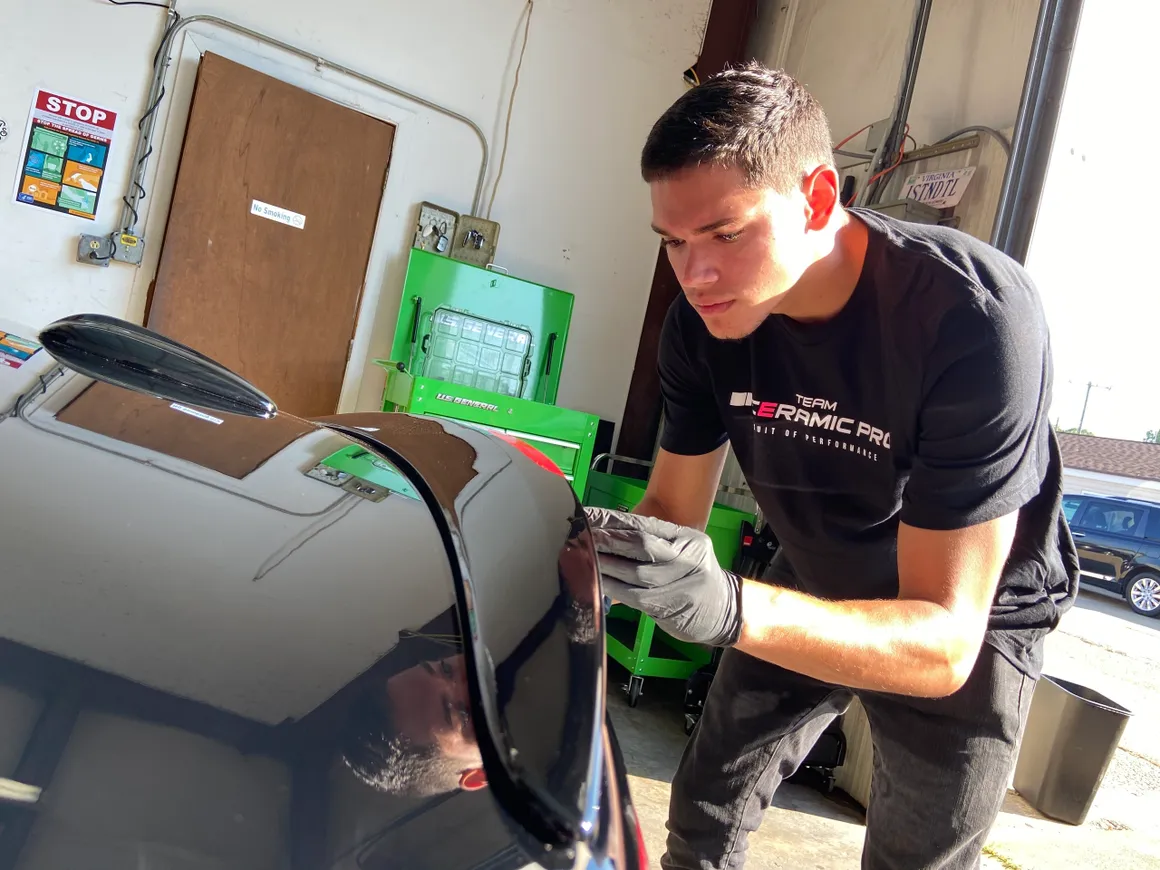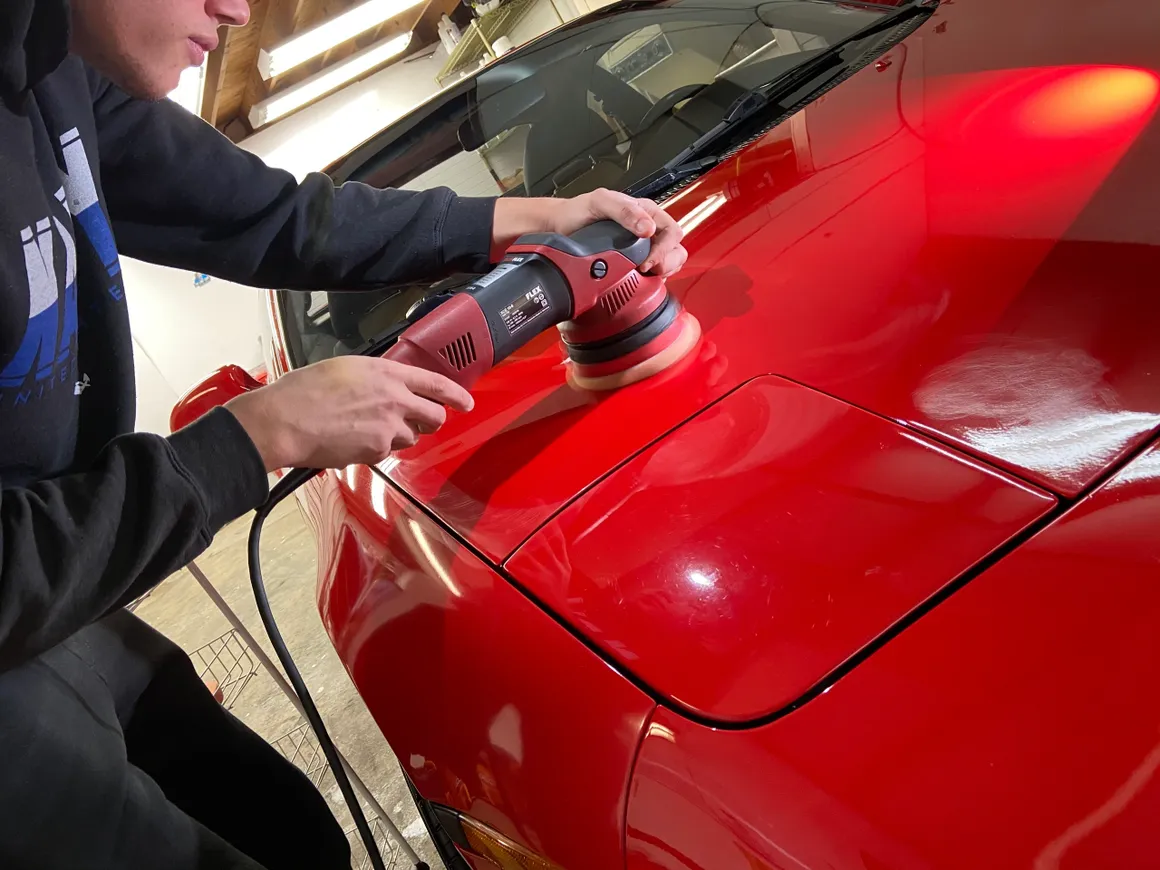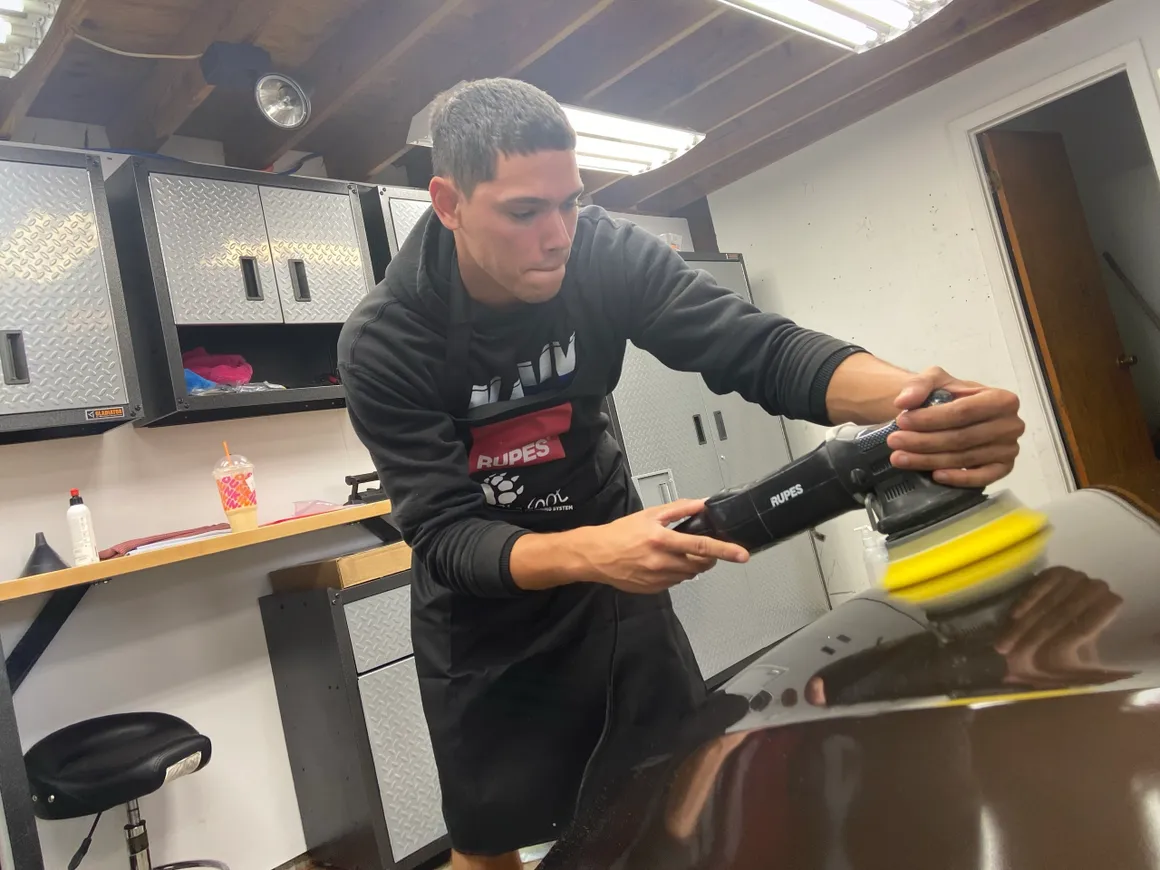 What are customers saying about us?
The first time I had the pleasure of receiving work from justin was about 8 months ago when cars drains clogged and my car flooded. I called in a slight panic and justin told me exactly what to do to prevent any water damage. Shortly after, he arrived and detailed my car and I've been going to him ever since.
Justin and his team did a phenomenal job at detailing, shampooing, and doing more interior work. I highly recommend using this company to bring your car back to life. They provide excellent pricing, friendly service, professional work and it was just a pleasure to do business with them.
Justin and Carmen were amazing to work with. Friendly and professional. Love the paint correction, chrome wheel chemical wash and ceramic pro job they did on our 2013 Yukon Denali. She looks brand new. Stand by their work when we thought we had a problem, they worked with us to immediately address our concerns.
Justin and Carmen were great! I've never been somewhere so professional and the quality work they did spoke volumes on how much they care about their profession and the happiness of the customer. I will definitely use their services again. My car looked like it was fresh of the lot. Thanks so much!
Awesome work! Really have an excellent eye for detail and honestly give quality work, very friendly and professional! First time experiencing them detail on my own car and it won't be the last! They also have membership plans that are budget friendly! They truly do "treat it as their own" !!
Impeccable work! Very personable husband and wife team. Very reasonable cost for quality work. I was amazed at the finished job and highly recommend their services to others.
Ceramic Coating FAQ'S
How much does it cost to ceramic coat a new car? 
How much does it cost to ceramic coat a new car?
The  Ceramic coating cost for a new car will depend on several things among them the quality of ceramic coating used, the size of the vehicle, and the complexity of ceramic coating application process. Also, the location where the service is provided will affect ceramic coating pricing. 
We insist that you hire a professional, experienced, and reputable ceramic coating specialist for the best results. Remember, this is a long-term investment for your car and having a professional car detailer in Newport News applying the coat for you will reduce the cost of maintaining your car in the long-run.
What is Sports?
Ceramic Coating Sport is a stand-alone ceramic coating as well as a premium maintenance solution for Ceramic Pro 9H coated surfaces.
Our Ceramic coating Pro Sport package is an excellent value for those interested in Ceramic Pro paint protection! It comes with a 6-month warranty and is a huge upgrade from waxing at a similar price point.
Ceramic Pro Sport is a significant advancement To start, it offers 20 TIMES more protection than a wax, and best of all, it only costs just a bit more, making it a wise decision as it can last for one year, not just a couple of months like a wax. A six-month warranty backs this package to ensure peace of mind with its durability.
Your car will have a fantastic gloss, and the feel will be slick and smooth.
What is Top Coat?
Ceramic Coating Pro Top Coat is a semi-permanent clear nano-ceramic coating. When cured, it will transform into a flexible glass shield protecting any surface and providing an easy-to-clean effect.
What is Gold?
Our Gold Package will give your car the best paint protection. Our technicians will apply four layers of 9H to the paint, including plastic and trim. Adding four layers of ceramic coating will offer better protection against bird dropping, bug etching, and even water spots. We then add a layer of ceramic coating, "Topcoat." this one layer of ceramic coating will bond to 9H, adding slickness and high gloss to your vehicle.
The best part is that the ceramic coating topcoat allows your vehicle to stay cleaner longer!. Our technicians also ceramic coat the windshield with ceramic coating "rain." Last, the rims' faces will be ceramic coated.
Would i need a paint correction?
Recommended, our trained and certified professionals are experts in the art of surface correction. Our professionals will restore your vehicle to the absolute best condition they can before the Ceramic Pro application.
Does the exterior get washed/preped?
YES, our staff are trained and certified in the art of auto detailing. Our professionals will detail the exterior to remove dirt and grim. The vehicle needs to be highly detailed before the Ceramic Pro application.
What is the difference between sports or other options?
Ceramic Coating Sports is a great option to test out ceramic coatings before committing to a more durable coating. The other options offer a more durable coating with greater protection. However, sports is a great stand-alone product.
What is the difference between the Bronze package or any other ceramic pro Packages?
The ceramic coating pro bronze package is an excellent start to joining the ceramic coating world. With one layer to the paint and trim, you can expect up to 3 years of durability. The main difference is that the silver and gold package includes a more durable coating, 9H.
How many layers does the silver package offer?
The process of Ceramic Pro will take between 2-3 days, depending on the condition of your paint, the size of the vehicle, and the packages you select. The 1st step is to wash and prep the vehicle. The 2nd step is to correct all the imperfections in the paint, such as swirls and scratches. Once the car is prepped correctly, a body shop safe prep solvent will be applied to the entire vehicle to get to bare paint. At this stage, the coating process will begin, and each panel of the car will have Ceramic Pro applied, leveled, and stacked to achieve the package you have selected.
Does this product require annual servicing?
Yes. To maintain your warranty, you need to attend an annual service. This is to ensure the Ceramic Pro performs properly for the entire length of the warranty. If an annual inspection is missed, the warranty defaults to the lesser package at the time of the missed annual inspection. i.e. A Gold (Lifetime) warranty becomes a Silver (5 year) warranty when an annual service is missed.
How long will you need my car?
Ceramic Coating Sports begins to cure 1-2 hours after application. the vehicle will be ready the same day unless other arrangements are made.
How long does Ceramic Coating top coat last?
You can expect up to 3 years of durability, and a 2-year warranty backs it.
How long does ceramic coating sport last?
Ceramic coating Pro SPORTS can last up to one year and has a six-month warranty verified through Carfax. That's longer than any wax or sealant on the market!
How Long Is the Process?
The Ceramic Pro Silver package includes a layer of Ceramic Pro 9H, the most durable paint protection product in the industry that will keep your vehicle protected. We will top it off with a layer of Ceramic Pro Light for added shine and to seal in the paint coating.