Are you looking for window tinting services near me in Virginia ? At Just' In Detail, we are professional auto detailing experts that also offer window tinting to clients in Newport News, Hampton, and adjacent Virginia towns.
Benefits of Window Tint services
Window tinting gives your car a sleek makeover. Your car looks stylish and appealing to everyone who looks at it. But that's not all, the right tinting shades can make life easier for you on the road in a couple of ways;
Window tint films will keep your car cool especially in summer. The films can prevent up to 60% of heat from reaching your car.
Tinting your car protects it from UV rays that can potentially damage the fabric of your interior. 
Window tint protects your eyes from sun glare and bright headlights from oncoming cars.
Automotive window tints keep your car safe from burglars who may be snooping around looking for an easy target.
Tinted car mirrors are safer to drive in on the event of an accident. If the windows get smashed, the tinted film holds the broken glass back hence protecting the people inside the car.
Kavaca Ceramic Pro Installers Newport News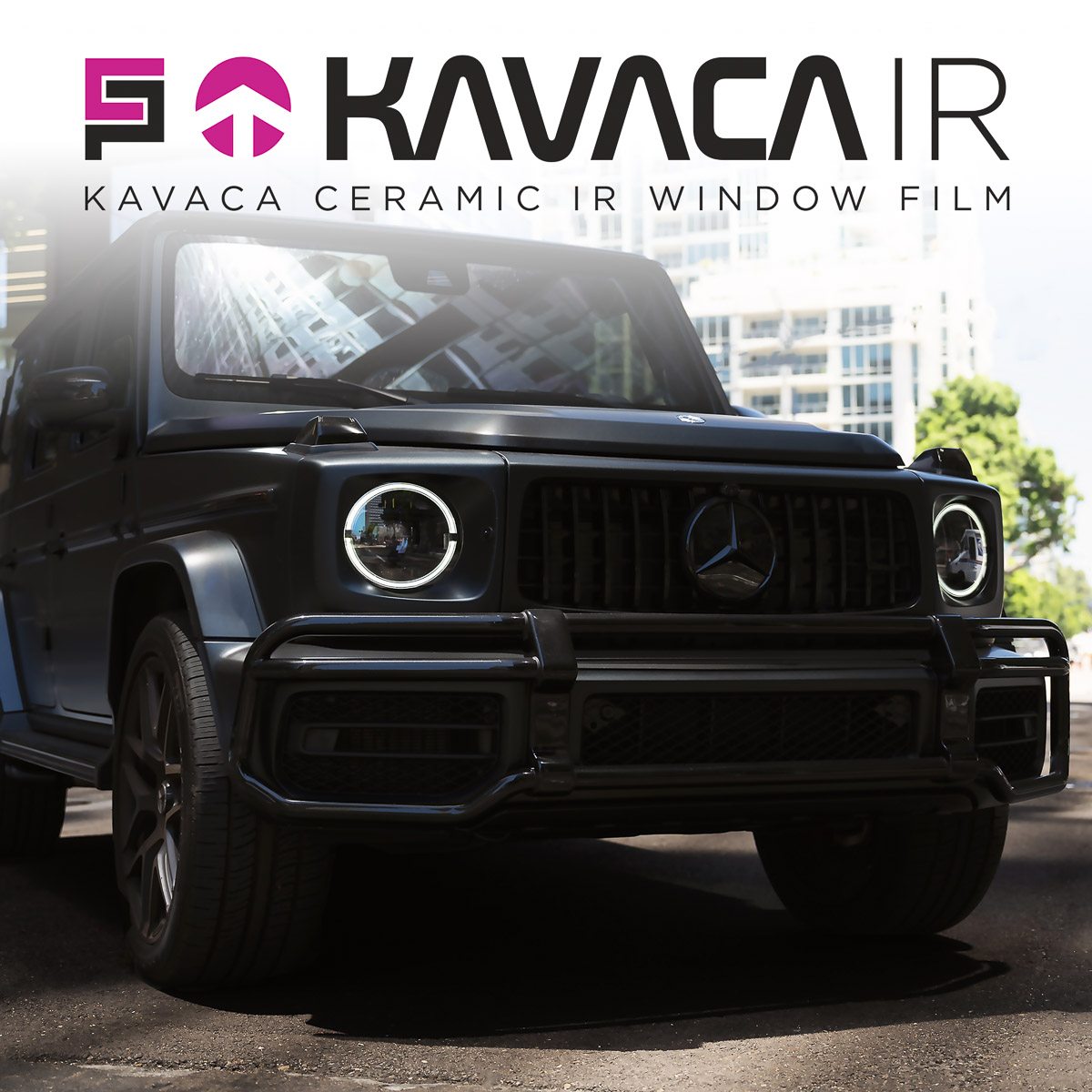 KAVACA CERAMIC PRO BENEFITS
Your content goes here. Edit or remove this text inline or in the module Content settings. You can also style every aspect of this content in the module Design settings and even apply custom CSS to this text in the module Advanced settings.
WHICH IS THE BEST WINDOW TINT FOR YOUR CAR?
Metalized Tinted Film
Metalized tinting is made of tiny metal particles fused into the window film. They give windows a shiny look and protect yoru car from heat and glare. Metalized tinted film also add damage-protection to your windows.
Ceramic Window Tinting
By far the best type of tinted film on the market. Ceramic tinting has the ability to block up to 99% of harmful UV rays. Moreover the ceramic layer not only reflects sun rays, it also has insulating properties to keep your car cool. Also, Ceramic window tinting does not fade over time which is great value for money!
Carbon Tinted Film
Carbon window tinting is durable as well. They block UV rays and have a unique matte finish that gives your car a sleek look. Want to keep your car cool in summer? Carbon tinted film works like magic too!
Hybrid Tinted FIlm
A great choice if you want the best of both worlds; dyed window tinting and metalized tinted films.
Dyed Tinted Film
This is the best window tinting for car owners on a budget. We use layers of dye to tint your car offering heat and glare protection, as well as privacy. There are various types of dyed tinted shades and we can help you decide the best for your car.
Different Window Tinting Shades
Not sure about the car window tinting to go for? Tinted film comes in different shades and each has a different purpose.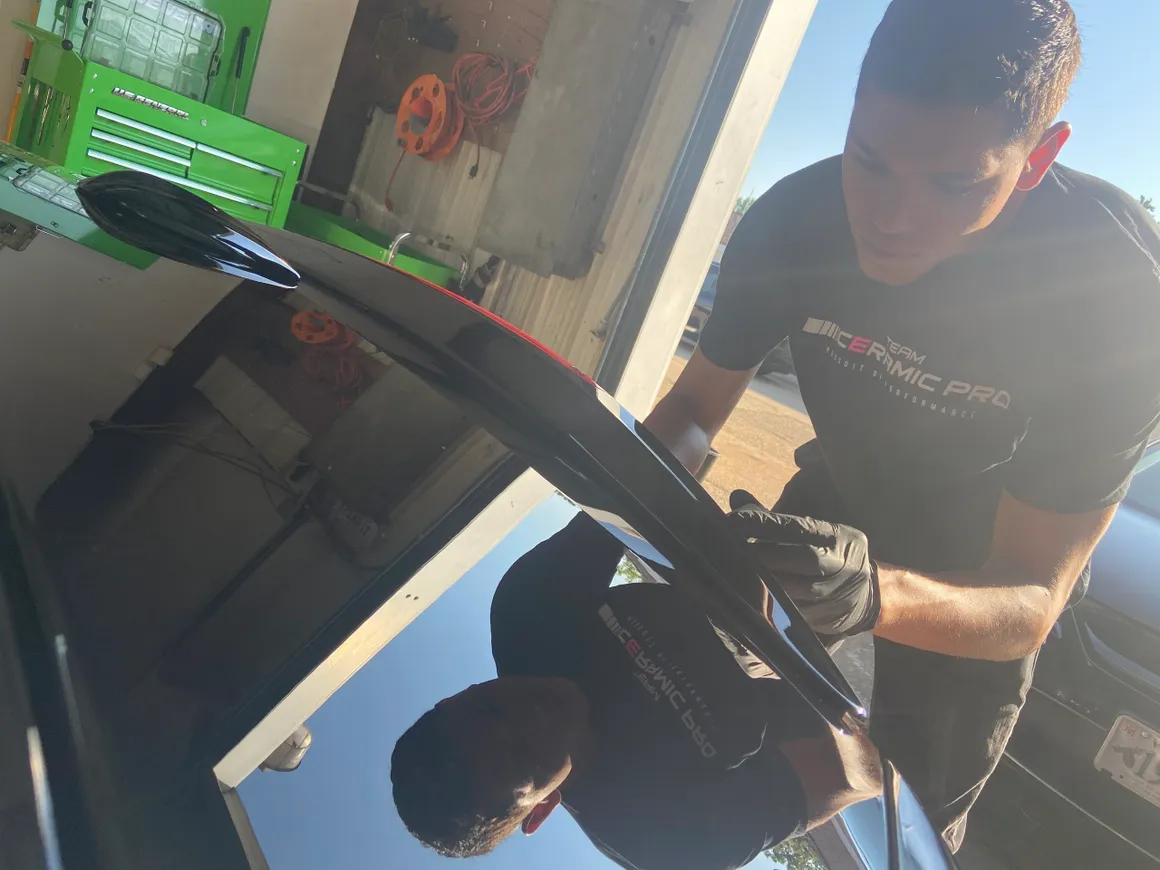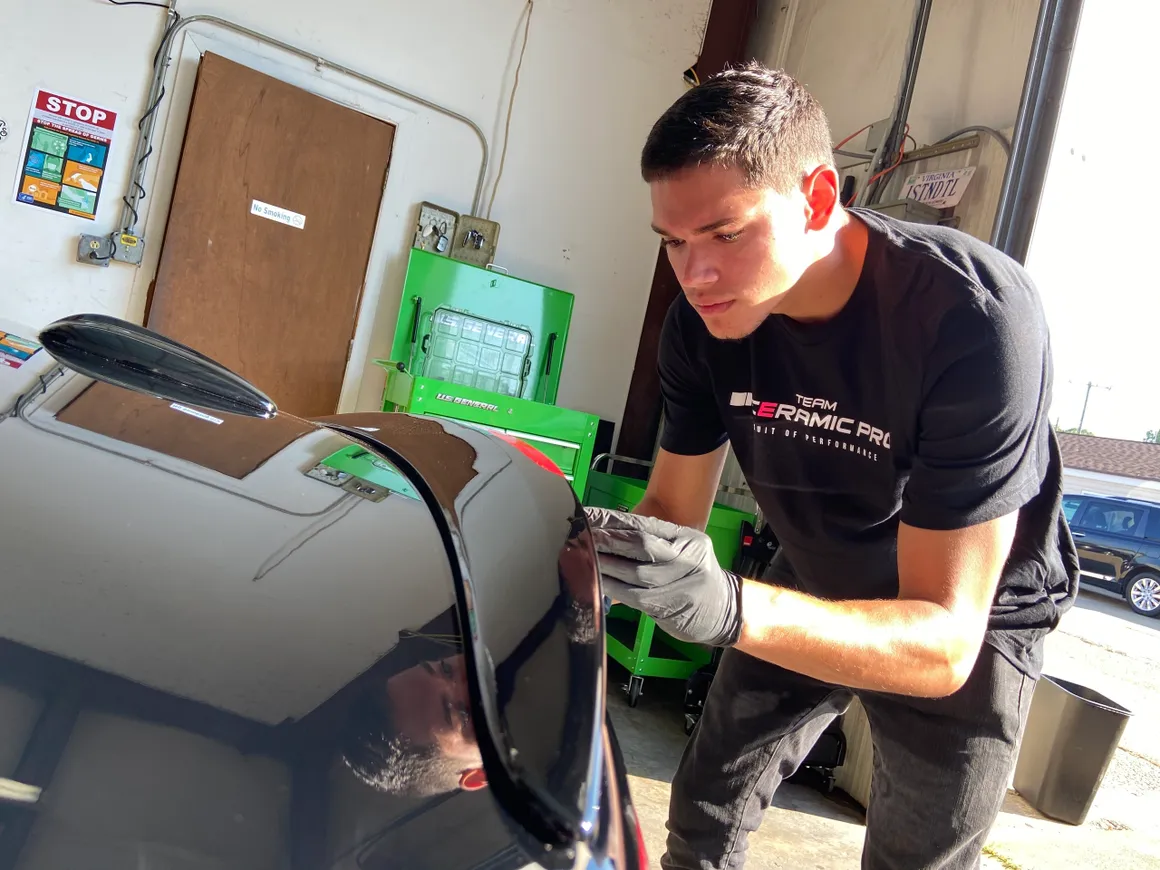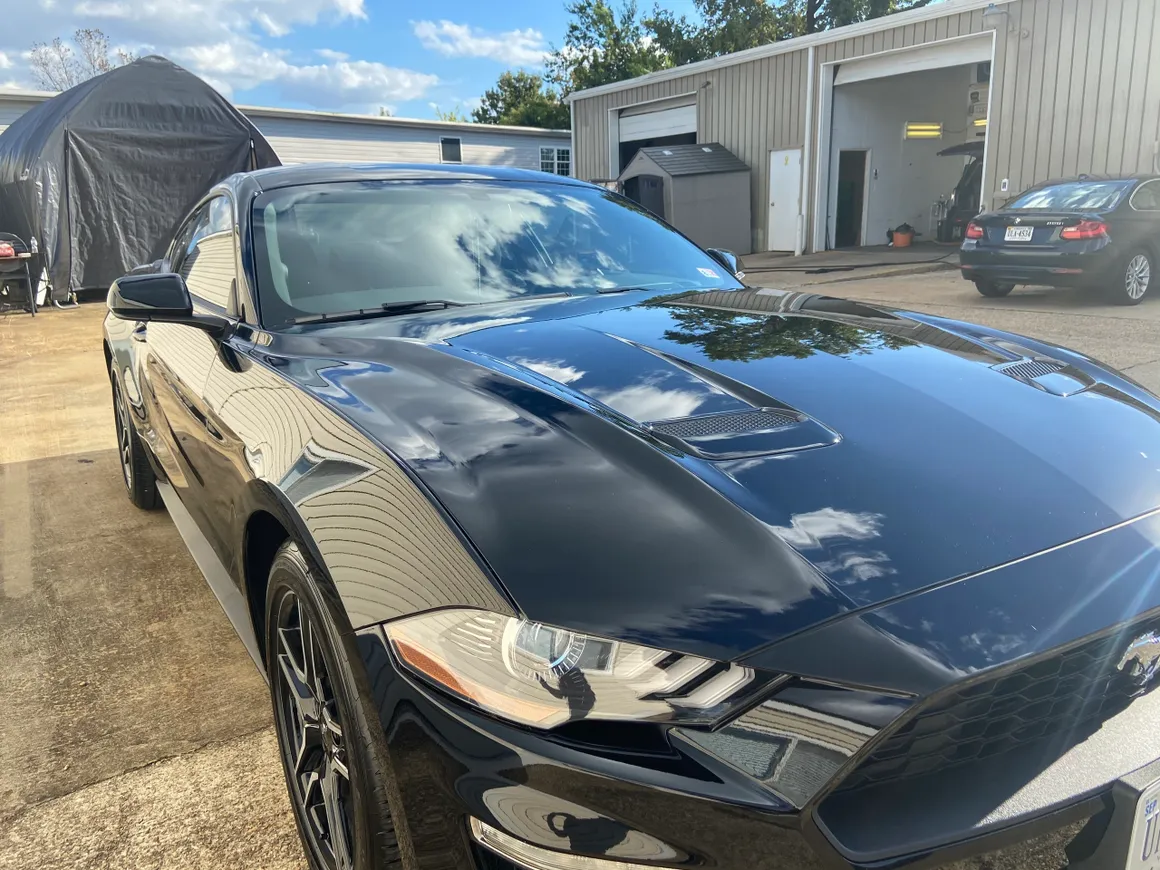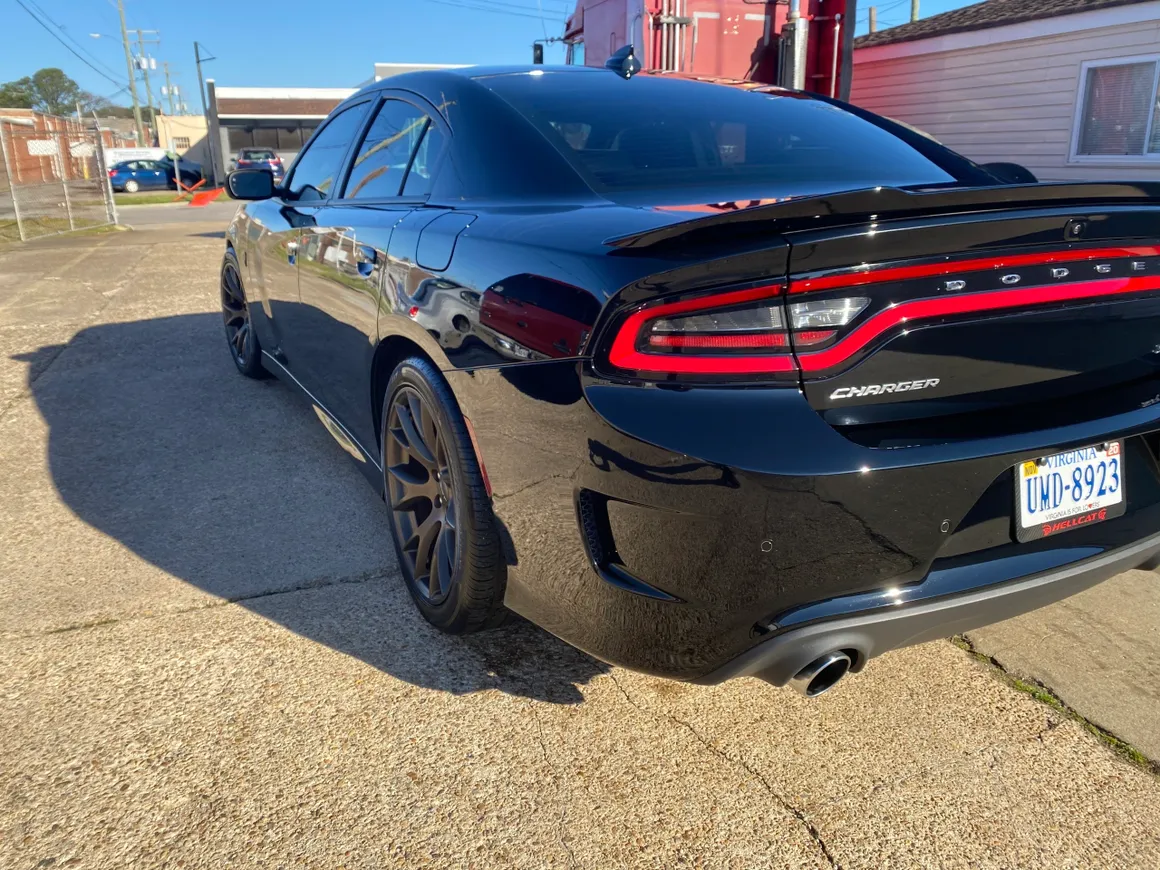 Need Help With Deciding The Best Window Tinting For Your Car
What are customers saying about us?
The first time I had the pleasure of receiving work from justin was about 8 months ago when cars drains clogged and my car flooded. I called in a slight panic and justin told me exactly what to do to prevent any water damage. Shortly after, he arrived and detailed my car and I've been going to him ever since.
Justin and his team did a phenomenal job at detailing, shampooing, and doing more interior work. I highly recommend using this company to bring your car back to life. They provide excellent pricing, friendly service, professional work and it was just a pleasure to do business with them.
Justin and Carmen were amazing to work with. Friendly and professional. Love the paint correction, chrome wheel chemical wash and ceramic pro job they did on our 2013 Yukon Denali. She looks brand new. Stand by their work when we thought we had a problem, they worked with us to immediately address our concerns.
Justin and Carmen were great! I've never been somewhere so professional and the quality work they did spoke volumes on how much they care about their profession and the happiness of the customer. I will definitely use their services again. My car looked like it was fresh of the lot. Thanks so much!
Awesome work! Really have an excellent eye for detail and honestly give quality work, very friendly and professional! First time experiencing them detail on my own car and it won't be the last! They also have membership plans that are budget friendly! They truly do "treat it as their own" !!
Impeccable work! Very personable husband and wife team. Very reasonable cost for quality work. I was amazed at the finished job and highly recommend their services to others.